Guitar Tricks Review – Coupon Code, Free Trial, and Price
Guitar Lessons as Easy as 1, 2, 3
Hopefully this Guitar Tricks review will give you the information you need to understand if this is the best program for you.
You might have already tried lessons from a guitar tutor and you failed because of one or all of the following reasons:
(1) It was boring
(2) You were not learning the style you wanted to master.
(3) You were just not connecting with the lessons.
The guitar is one musical instrument that many people try to learn. However, not all of them are that successful and they have to give the instrument up — but this should not be the case. The guitar is one of the musical instruments that is considered easy to learn. But in order for this to happen, you have to make sure that you are learning from the right source.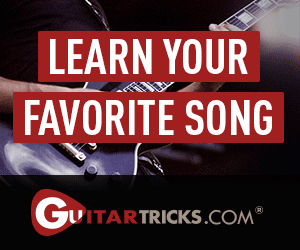 Nowadays, you can get music lessons almost everywhere — from one-on-one tutorials to classes with a whole bunch of other students. There are also a lot of self-help books if you want to teach yourself.
In many cases, however, a lot of people simply log in to online sites like YouTube and try to learn on their own. While some might find these guitar tutorials adequate for them to learn the basics, there are others who might have a hard time following.
First of all, you don't really know if the people behind the tutorials have a background in instruction (remember, knowing something and teaching it to others are two different things and thus require two levels of expertise).
Second, many — if not all — of the tutorial videos are fragmented. This is especially true for beginners or for those who have no experience at all and it is really one of the root causes of their inability to learn or master the guitar.
Learn The Guitar From The Experts
If you want an easier, faster, and more effective way of learning the guitar or polishing up your playing skills, then Guitar Tricks is a site you might want to try out. Keep reading our guitar tricks review to find out what else is in store for you there. The site promises effective guitar lessons — and this is not an empty bluff, no. The site has earned a lot of top reviews from users and that proves how successful their guitar lessons are.
Having started in 1998, the site literally invented online guitar lessons and its lesson library has grown to at least 11,000 lessons, with over 600 songs that are taught by highly qualified guitar instructors.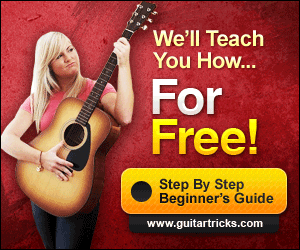 The Perks of Learning From Guitar Tricks
If you are going to learn, why not learn from the best? As you will learn from our Guitar Tricks review, this is one of the best in online guitar lessons and this is due to the following reasons:
1. The site caters to anybody
Whether you are a newbie or an experienced guitar player who just wants to learn new songs or enhance your skills, Guitar Tricks can help you. A step-by-step curriculum for beginners is the best and Guitar Tricks has exactly that — newbies don't have to feel lost anymore. As for experienced guitarists who are looking into improving their skills, appropriate lessons are also provided — no more repetitive lessons because the instruction you will be getting will be suited to your abilities.
2. You will not get bored
Even if you have finished your beginner lessons, you will find that there's so much more to discover and learn, and you can see them all here at Guitar Tricks. Imagine 600 updated songs of different genres and styles — now who will get bored with that? The site has twice the number of song lessons compared to other online guitar lesson sites and that is a proven fact!
3. The teaching methods are paced right and effective — who would not want that?
Sometimes, the reason why some people don't learn or give up trying to learn is that the method used is not just effective. The YouTube tutorial videos are way too fast; your instructor is just not getting through to you. That is not the case with Guitar Tricks. When researching this guitar tricks review, we found that members of the program have spoken out, and they say that the curriculum in the site enabled them to learn 50% to 100% faster. Now, how's that for progress? The lessons are designed in such a way that you go through a step-by-step process so there's really no excuse for not learning. And what's more, the videos are shot in three angles so you can exactly see what the instructor is doing — there will be no need for you to rewind the video just to know what is happening. This feature will make your learning easier indeed.
4. And of course, there's the easy-to-navigate website
You get all the tricks in the book in just one place — no need to keep shifting from one website to another. The interface is also very interactive. You can watch a video, read descriptions, and have access to tabs and notations. With Guitar Tricks, you will feel as if you are being taught and initiated into the guitar world by a friend.
In addition, the following are also what attracts newcomers and keeps members in the course
•    Instant access and easy navigation
•    Affordability of the course at only $14.95 each month and $129 for the entire year
•    A great 14-day trial
•    The tried and tested Core Learning System, which really works
•    A site that is like a one-stop shop — complete with a system, jam tracks, a forum, and even games
•    Comprehensive options that will keep you coming back for more
•    A 60-day money-back guarantee if you are not satisfied with the program


The features that do the "Trick"
•    Beginners Lessons: This is also called the Core Learning System and this is where you will get acquainted with the really basic stuff, such as holding the guitar the right way or how to strum. It is considered as one of the primary strengths of Guitar Tricks.
The Core Learning System has eight courses, which are composed of the Fundamentals and Intermediate. The Beginners Lesson is really comprehensive, because the different styles are explained in a step-by-step process, including the correct posture, basic knowledge of the guitar, music theory, as well as chords and melodies, and more.
•    Experienced Lessons: You already have background knowledge but you want to improve on advanced techniques and learn more — then these lessons are for you. Divided into three branches (rock, blues, and country), you can easily choose which genre you want to specialize in. You can also go through other sections of this course like Chords and Scales, Practice, Gear and Tone, Artist Studies, Styles and Techniques. With Guitar Tricks' Experienced Lessons, there is no way to go but up as you learn more and more about your instrument and what you can get out of it. The excitement — and learning — just doesn't stop.
•    Songs, songs and more songs: Guitar Tricks also addresses your need to update and widen your repertoire with this section. You can easily navigate through the different musical genres: Funk and Soul, Country, Blues, Rock, Surf, World, Metal, Bluegrass, Rockabilly, Classical, Acoustic, and Jazz. They even have a particular section for hit songs! The contents are also sorted according to title, artist, and level of difficulty so again, navigation won't really be a problem for you. This is a great feature because other programs usually lose their value once one has mastered playing the instrument. That does not happen with Guitar Tricks. You will just keep coming back for more.
In Addition… (Yes, There's More)
Do you know that there are even quizzes in the site? Just like the regular quizzes you took in school, the Guitar Tricks quizzes will etch the concepts in your head, helping you remember them when you engage in the practice songs that are also included in the course.
But that's not all — it is not all about guitar playing lessons in Guitar Tricks, you know. The site also has a forum where you have your own avatar and can interact with other members, as well as that jams section which you will particularly love. Encountering some problems in the program or interface lately? The Help Desk is also there to assist you with its FAQs or if your problem is not addressed in the FAQs, you can submit a request to their customer service.
What real people are saying about the program
Sure, any site that wishes to sell would say that it is the best in its field and you might think that the same is true with Guitar Tricks — it might just be a good ol' publicity stunt. But you can stop thinking that right now. Yes, hold that thought — in fact, why not ditch that thought all together? Visit the Web and look into the reviews. Guitar Tricks' claim is not a bluff. The reviews are positive and the members who have tried out the course were just blown away at how easy, fast, and fun everything was.
One common feedback is that some people get overwhelmed with their first log-in. But as you get to know the interface, things will become easier and the way that the course is structured will make sense to you. One thing to keep in mind, too, is the fact that Guitar Tricks is a self-study tutorial so you can most definitely learn and go through the course at a pace you are most comfortable with.
The progress is another thing that many members laud. They speed their way through the fundamentals and before they even notice it, they are already well in their way to learning the styles they want to concentrate in.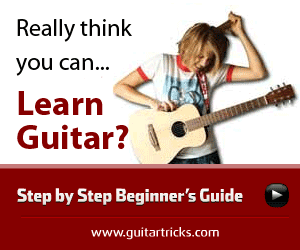 The Last Word In This Guitar Tricks Review
The name might be Guitar Tricks but you will not get tricked with this program.
Guitar Tricks will not disappoint you and you have all the reviews of satisfied members to back it up. With over 1.9 million members, you can just see how great and popular the course is. It is a great program and it became exactly that because it does not only work — it works very well.
In fact, some major and reputable review websites have started calling it the best among the many guitar courses out in the market at present. This is especially true when it comes to the variety of lessons, the effectiveness of the tutorials, the technique and reference library, the number and credentials of the instructors, the wide array of artist categories, the enjoyable jam station, the active subscriber help, and interactive community features. Find out for yourself and experience the best online guitar lessons ever.
I really hope that this Guitar Tricks review has given you more insight into the full learn guitar program that is available, and that this will help you to make a more informed decision when choosing a guitar learning program. Don't forget to take a look at our comparison chart on the front page to compare Guitar Tricks, JamPlay, and Jamorama  – and see how they stand up to each other in a direct feature to feature comparison.
Guitar Tricks Free Trial Offers
We've negotiated for you some of the best free trial offers for Guitar Tricks.
Here's the link for a Full Access 14 day Free Trial that we have got for you!